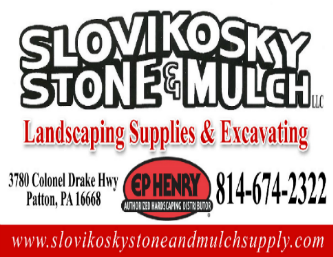 Randy Slovikosky, owner of Slovikosky Stone & Mulch LLC, entered the landscaping business in 1993 with nothing more than a John Deere tractor and the desire to work. After 10yrs of landscape installation, he saw the opportunity to grow his business by producing, and distributing screened topsoil to others. In the spring of 2006, Randy entered the retail business by opening Slovikosky Stone & Mulch LLC. His desire to meet his customer's needs, has been his incentive to grow his product selection to what it is today.




Slovikosky Stone & Mulch LLC. currently stocks a large selection of landscape products that are available for pick up or delivery, for residential or commercial use. No order is too large or to small, we can handle it all.
Randy Slovikosky was born and raised in Cambria County, and enjoys doing business amongst friends. He has built his business to last, so that one day, his children can continue to serve your children.